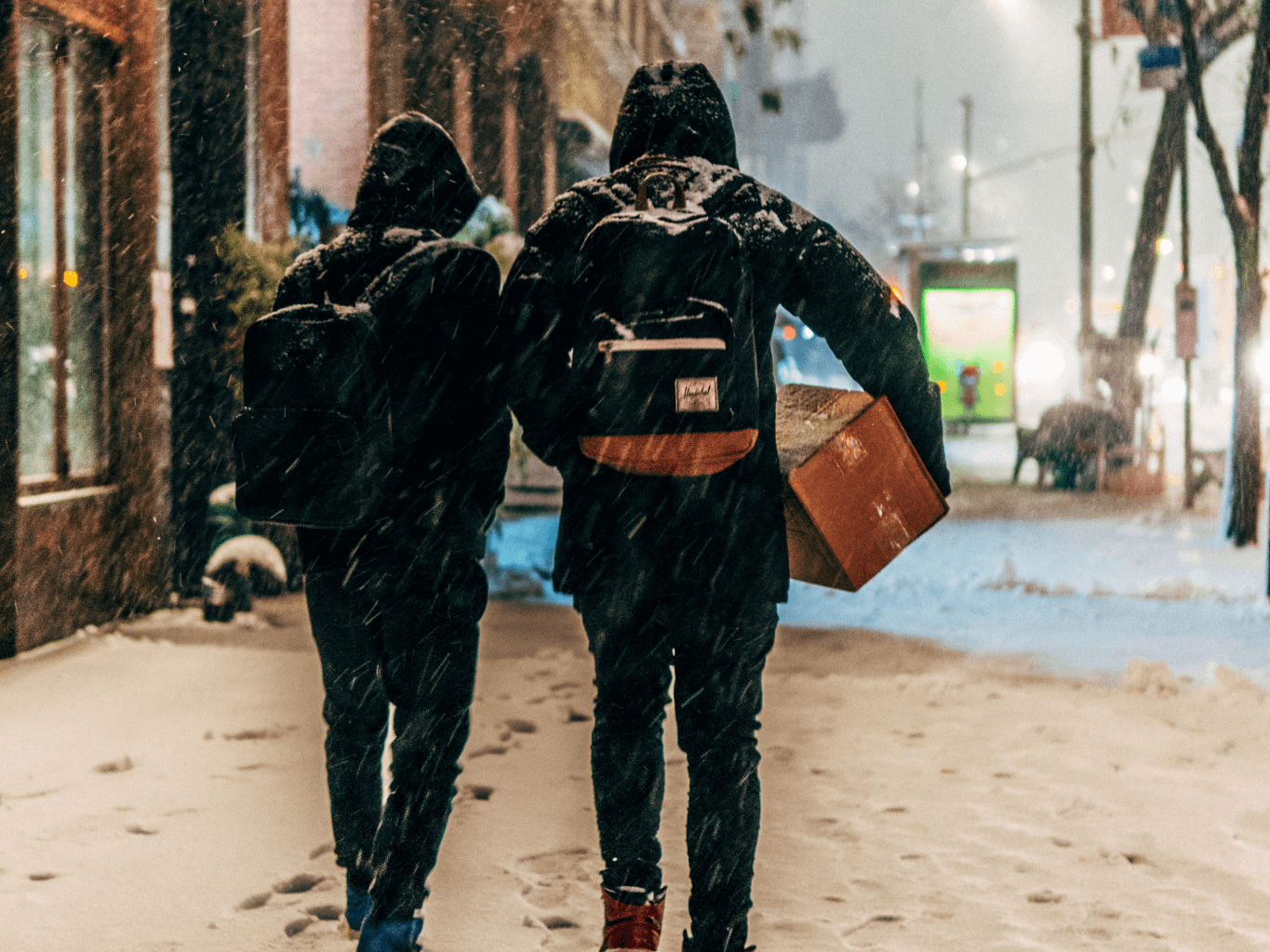 Winter Moving Tips from a Professional Mover
Eastern Iowa Winter – cold, snow, frost and sleet – all hazardous weather conditions that put you and your property at risk no matter the precautions that you may take. These risks are increased when deciding to move during the winter months.
If you have any option, it is highly recommended to plan a move in the warmer seasons – spring, summer or autumn. If there simply is no choice, take note of the following hazards and challenges that you might face at the coldest time of year and the precautions you should take:
1. Packing
It may seem like one of the simplest tasks in the world but packing, especially for a winter move, requires a little expertise. Boxes should never be overfilled to the point of busting open and being too heavy to lift and carry. Under-filled boxes also pose a problem allowing items to bang against one another resulting in breakages and damage.
Packing materials are absolutely critical to prevent items from breaking. Bubble wrap is the ultimate packing material, especially for glassware and other fragile items. Remember that the cold temperatures and risk of slipping and falling while carrying your boxed household items is increased in winter. So pay extra attention to your packing and make sure that you lower the risk of injury to yourself and damage to your belongings.
A professional removal service understands the hazards associated with transferring your precious items and will take all the necessary steps to ensure your belongings are boxed up and transported with the ultimate care.
2. Plan Ahead
Having a relocation plan in place way ahead of your move is recommended no matter what time of year you are moving. However, be prepared for sudden changes in your plan during winter. A blizzard or extreme frost can postpone your move for days or even weeks. So make sure that your plan is adaptable and that you aren't absolutely stuck with moving on one specific day.
Also make sure that you are ready for moving day. All your boxes should be packed up and ready to go and any special arrangements made for sensitive items way in advance.
Your expert removal team will work with your to tailor a relocation plan that meets your specific requirements and that is flexible and adaptable to take into account the weather and other factors associated with your winter move.
3. Extra Protection
Your boxes, furniture, appliances and other household goods need some additional protection from the elements of Mother Nature during winter. Snow, rain and sleet can damage boxes and goods putting them at higher risk. Plastic sheeting to cover these items while being transferred from your house to the removal van and into your new home is highly recommended.
Specialist winter removal teams will ensure that all the necessary measures are taken to protect your valuables from exposure to the harsh elements.
4. Equipment
Because carrying boxes and heavy furniture or appliances is hazardous during winter, it is important to have the right equipment to make transferring your goods safer, more convenient and efficient. Trollies, dollies and other types of equipment will ensure that the moving process goes smoothly and reduces the hazard of breakages or damage occurring.
Professional removals have all the necessary equipment on hand to ensure an easy move while reducing the risks associated with a winter move. If necessary, they will hire additional equipment such as cranes or vehicles to take care of special or large items, to account for difficult spaces and long distances from your front door to the moving van or truck.
5. Driving Conditions
Driving conditions in winter are just about always hazardous but even more so with a heavy moving truck or van. If you are considering driving a fully loaded van, you need to be extra cautious and preferably have some experience at driving heavy vehicles under hazardous driving conditions. Keep in mind the flexibility of your moving plan and rather wait for better weather if the conditions are extremely bad to lower the risk of an accident. Remember to start early and avoid driving in the dark.
Professional movers employ expert drivers who are experienced at driving heavy, full loaded vehicles in all types of weather conditions. It is highly recommended to hire a removal company to take care of your winter move rather than putting yourself and your belongings at risk due to hazardous driving conditions.
6. The Ultimate Solution
One great solution to overcoming most of the hazards of moving in winter is to use a portable storage container. The container is delivered to your current address and you can transfer goods to the container at your own convenience while reducing the risks. The container is then simply hauled away to your relocation destination where you can unpack at your own pace.
These type of storage container removal solutions are available from select professional removal companies. You can even opt for their additional services such as having your items professionally boxed up and expertly moved into the storage container.
7. Moving Costs
There are many factors that influence the cost of a move such as the distance, the volume of household goods and complexity of the relocation. If you are planning a DIY move, additional costs such as the hiring of a van and paying for labor must also fit into your budget.
However, the cost is often much lower when using a professional removal service in the winter months. This is because their busiest time of year is summer and fall when the weather conditions are more conducive to relocation. Winter is normally quieter allowing removal companies to offer lower rates or discounts for moves at this time of year. Make sure that you compare the cost of a DIY move with that of the value and benefits you will get from professional movers for a winter relocation.
Flexibility is key to planning a successful winter move. Don't take for granted any unforeseen or incidental events that could delay your move or put you and your belongings at risk. Avoid the hazards of moving in winter and find a nearby local mover who can make your moving experience safer.